WATER TREATMENT SECTOR :
DESALINATION AND REVERSE OSMOSIS SYSTEMS
The company Medwaste is pleased to announce the collaboration with the Spanish Company PETER TABOADA for the development of Advanced Water treatment Technologies – Desalination and Reverse Osmosis Implementations, for the countries Greece and Cyprus.

Peter Taboada is specialized in the design and manufacture of water treatment and purification systems for different sectors: marine, industrial, food, health, pharmaceutical, hotels, residential areas with a presence in more than 40 countries.
Quality
PETER TABOADA develops systems and equipment following the strictest quality controls and working to the most demanding international rules for manufacture and with the additional value giving to a company that has held the ISO 9001 Quality Control Certificate since 2001.
All the systems created are subjected to permanent study and development in accordance with the philosophy of continual improvement that has characterized the company.
The providing services concern Study, Design, Construction, Delivery and Installation of Desalination and Reverse Osmosis Systems for the treatment of sea water and brackish water, for capacities from 1.8 m3/day (compact units) till high production plants with production capacities higher than 2.000 m3/day.
Furthermore can be developed specified systems, according special adjustments, as follows :
Contenerized Reverese Osmosis Units
Reverse osmosis systems for sea water desalination are designed and manufactured in containers. These tailor made big plants are designed for easy transportation and location changes. These containers are isolated and climatizated to support extreme conditions.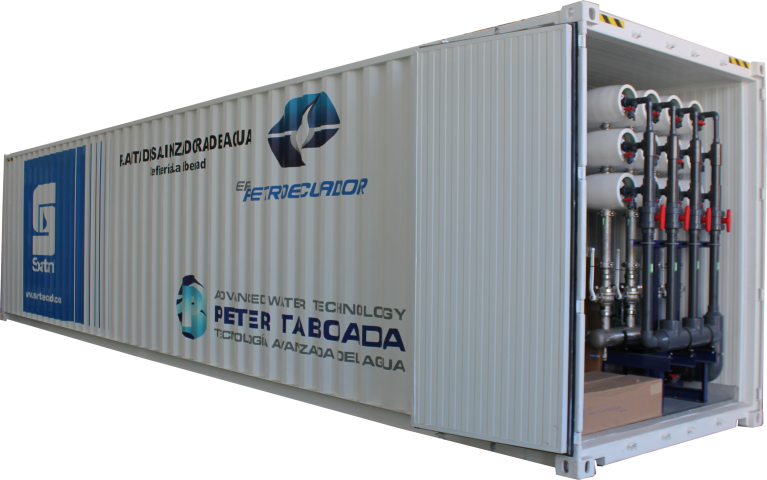 Yatch Series
Reverse osmosis systems for sea water desalination, have been specially designed for leisure boats. They are able to produce the highest water quality standards and in this range with group productions between 1.8 m3/day to 15 m3/day.
Special Systems
Tailor made desalination and reverse osmosis water treatment lines for industrial or domestic use.